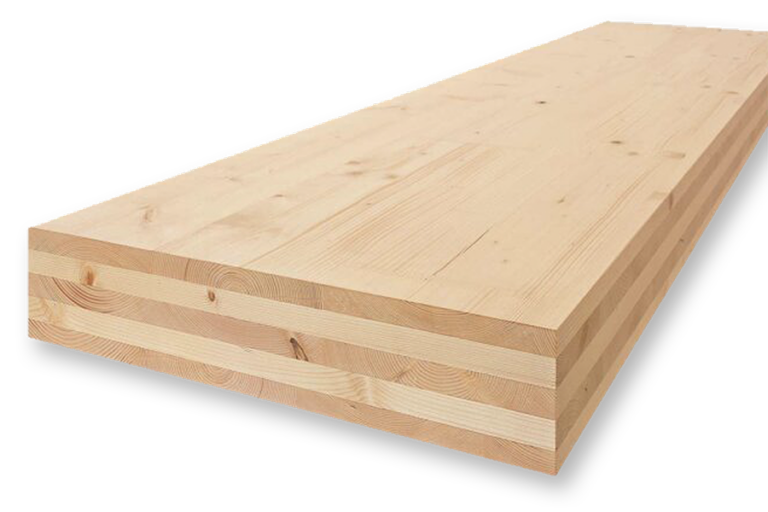 Cross Laminated Timber (CLT)
Glued layers of solid sawn lumber with each layer oriented perpendicular to adjacent layers and glued on the wide faces of each board so outer layers have the same orientation.
We offer a wide range of CLT thickness available for your designs with options from 60 mm ( 2 3/8") up to 320 mm ( 12 5/8") with increments of 20 mm ( ¾ ") each minimize waste, value engineering and right sizing each project.
Cross-laminated timber (CLT) is a large-scale, prefabricated, solid engineered wood panel.
Lightweight yet very strong, with superior acoustic, fire, seismic and thermal performance, CLT is also fast and easy to install, generating almost no waste onsite. CLT offers design flexibility and low environmental impacts. For these reasons, cross-laminated timber is proving to be a highly advantageous alternative to conventional materials like concrete, masonry or steel, especially in multifamily and commercial construction.
A CLT panel consists of several layers of kiln-dried lumber boards stacked in alternating directions, bonded with structural adhesives, and pressed to form a solid, straight, rectangular panel. CLT panels consist of an odd number of layers (usually, three to seven), and may be sanded or prefinished before shipping. 
While at the mill, CLT panels are cut to size, including door and window openings, with state-of-the art CNC (Computer Numerical Controlled) routers, capable of making complex cuts with high precision. Finished CLT panels are exceptionally stiff, strong and stable, handling load transfer on all sides.